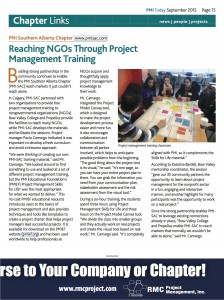 PMI Southern Alberta Chapter (PMI-SAC) has partnered with some other organisations to provide project management training for NGOs.
The Project Model Canvas was used in these project management training courses as a tool to give insight in the different interactions, and to provide oversight on the whole project spectrum.
Read the full article here.
Published by PMI.org in PM Today magazine – edition September 2015.
Do you want more info about Project Model Canvas ? Contact us now.