The Project Model Canvas  is an innovative tool to transform an idea into a project plan, and to stimulate collaboration and communication between all involved parties (project team, sponsor, stakeholders, etc.)
The clear one-page overview provides insight in the interactions between the different project topics (scope, time, cost, risk, team, etc), also to those that are not familiar with existing PM methods such as PMI-PMBoK, Prince2.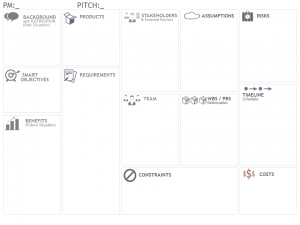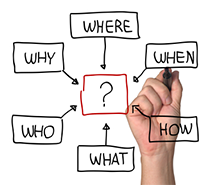 The Project Model Canvas addresses the 5WH (Why, What, Who, When, Where, How) in an intuitive and pragmatic way.
As the Project Model Canvas is focussing on project development (early stage), it is perfectly compatible with other methods (PMI-PMBoK, Prince2, Agile, etc) for project execution.
Origin
The Project Model Canvas is developed by Prof. José Finocchio, based on the concept of the Business Model Canvas of Alex Osterwalder. PMS has updated and translated the model.
NEW !!
We're proud to announce our new interactive project model canvas !
We partnered with a cloud solution provider to develop an interactive Project Model Canvas, to capture your ideas digitally and make them directly available in the related project documentation like :
The Project Charter (PMI) or Project Information Document (Prince2)
The Business Case
The Stakeholder register
The Risk Register
etc.
Discover this interactive solution here (http://www.pmstudio.be/pmcanvas/)